Case Study: Pour Les Femmes
💡
COMMERCE. COMMUNITY. CONTENT.
Pour Les Femmes is a sleep/loungewear company co-founded by Robin Wright. We launched the DTC business for Pour Les Femmes and then created the Pour Les Femmes Foundation to further the mission of the brand.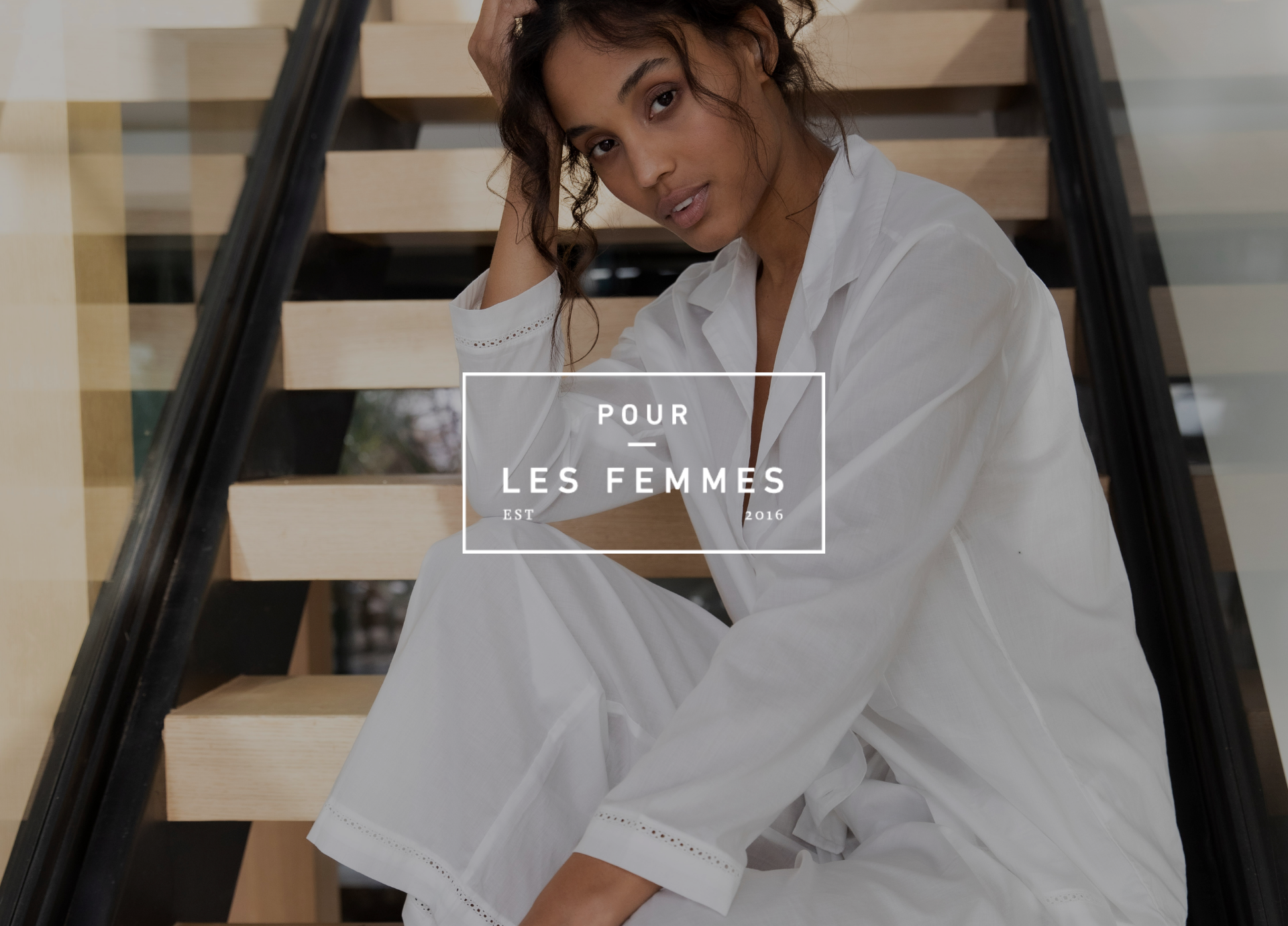 An apparel brand on a mission: Pour Les Femmes
Prior to working with us, Pour Les Femmes had focused on its wholesale business where it sold to retailers such as Saks, Nieman-Marcus, and Harrods.
We understood that the brand was missing a huge opportunity to capture the growing online market for sleep and loungewear and leverage the audience and credibility of the brand's own celebrity co-founder, Robin Wright.
Starting in 2019, we partnered with Pour Les Femmes to re-launch their DTC business and activate their global audience of conscious customers interested in luxurious and sustainably made garments. We led the digital transformation of the brand to create a new revenue stream that more than doubled the brand's existing wholesale revenue and reached new online consumers in over 50 countries around the world.
So, how did we do it?
We leveraged best-in-class marketing technology, the brand's own first-party data, and expertise in content strategy and audience targeting to build brand equity and drive revenue.
As an outsourced CMO, we drove all aspects of the decisions related to marketing procurement, brand strategy, creative, marketing technology evaluation/integration, social media, paid media, email/SMS, and globalization of the customer experience.
The result? We grew DTC revenue 4x in the first year and 20% in the following year while launching and growing the addressable audience across multiple platforms including Facebook, Instagram, TikTok,  and YouTube.
Amplifying the brand's social impact: Pour Les Femmes Foundation
In order to expand the founding mission of the Pour Les Femmes brand to provide comfort and security to women, we created the Pour Les Femmes Foundation, a 501(c)3 public charity, and launched it publicly in 2022.
The Foundation allows Pour Les Femmes to expand its social impact and provide support for capacity building with our local partners in the Democratic Republic of the Congo. Our goal is to help lift women and children out of poverty, advance the goals of decent work for all, achieve gender equality through empowering women in underserved communities, and protect them from gender-based violence (GBV).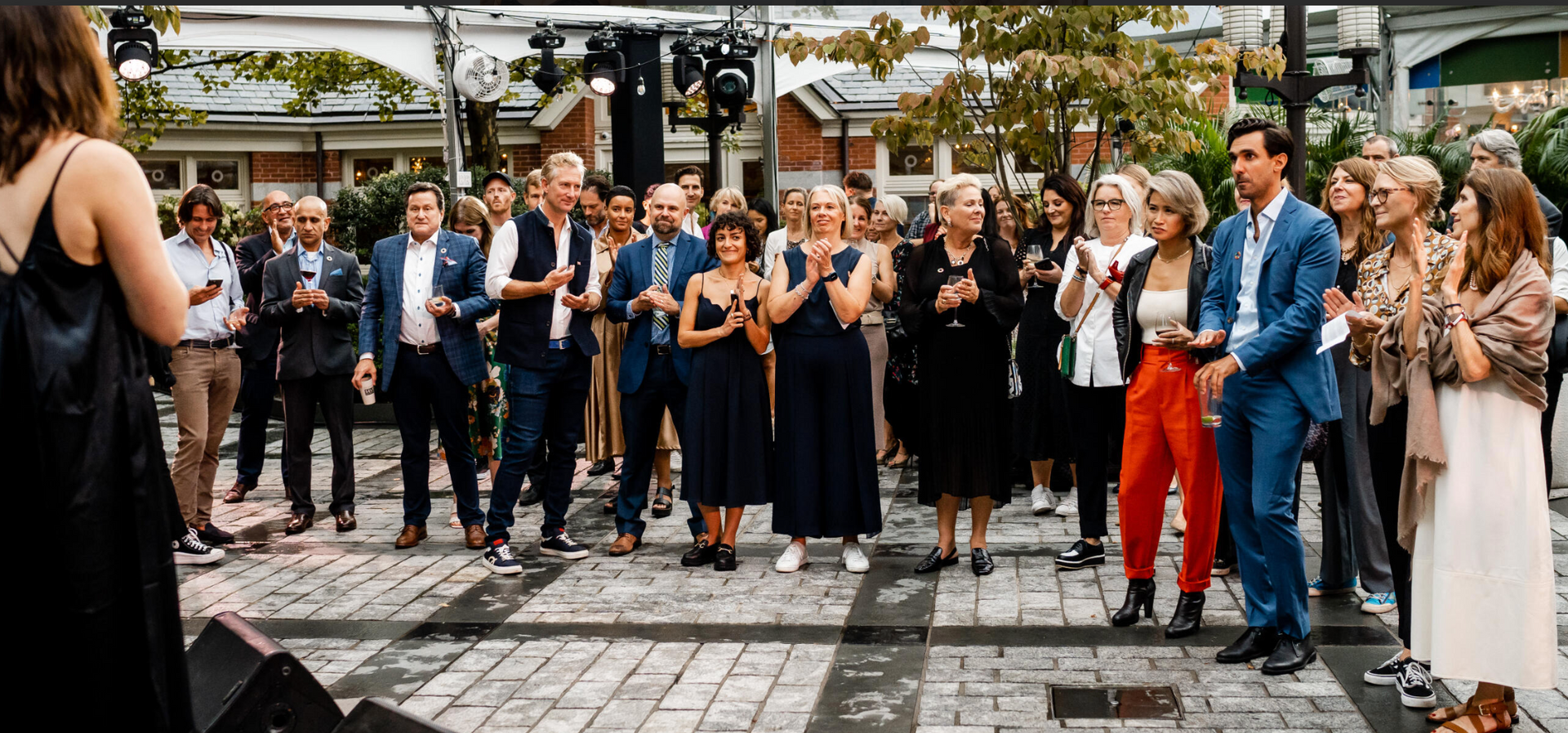 We oversaw the Foundation's development strategy including developing new relationships to build the organization's visibility, impact, and financial resources.
In 2022, we led the programming of the Foundation which in 2022 included a launch party during UNGA week in partnership with Freuds Group/Project Everyone at Tavern on the Green/Goals House sponsored by Salesforce and Salesforce.org in New York in September 2022.
Another highlight of UNGA Week was our invitation to the Clinton Global Initiative where Pour Les Femmes Foundation participated on a panel with Secretary Clinton on the Still Unfinished Business: How We Can Improve Economic Outcomes for Women. We also partnered with Google.org to participate in their gala event during UNGA week.
In 2023, we secured a grant from Twitter and Square founder Jack Dorsey's #startsmall fund. The grant will go to support Pour Les Femmes Foundation's local partners in the eastern Democratic Republic of the Congo that provide work and vocational training to women in rural communities, provide a decent education to at-risk children, and support orphans and refugees of the ongoing crisis in the Eastern DRC.
In September 2023, the first grant from these funds was made to the Congo Peace School in Bukavu, DRC, via Action Kivu, the 501(c)3 in the US that supports the Peace School and their work.
Read More About Our Roadmap to Brand Growth:
MARKETING TECHNOLOGY INTEGRATION
CDP, CRM, Email, and SMS Marketing
Centralized customer data is the key to informed marketing decisions. We implemented a customer database for a full lifetime view of customers' engagement with the brand and to increase purchases from the most profitable buyers.
We used best-in-class e-commerce CRM technology from Klaviyo and Attentive to launch and grow the Pour Les Femmes email and SMS programs to increase conversions and grow brand loyalty.
Direct Response
We launched and managed direct mail campaigns that drove huge results using customer segmentation based on past purchase history.
BRAND BUILDING
The Pour Les Femmes brand represents a beautiful, sustainably made, and high-quality product. Our activation strategy was built on this brand identity to create emotional connections with customers to increase customer loyalty and grow sales.
Community
We did focus groups and customer surveys to learn more about Pour Les Femmes's customers. These buyers are socially conscious, interested in luxury, and in giving back to their communities. With this customer persona in mind, we set about growing the Pour Les Femmes' audience across social and paid media.
Social and Paid Media
We launched and managed social and paid media campaigns across Facebook Ads, Google Ads, and TikTok to grow brand awareness and revenue by reaching PLF's customers and potential customers where they spend their viewing time and increasing the size of PLF's addressable audience.
SEO/SEM
We worked with our technical SEO partners to audit the Pour Les Femmes e-commerce site and implement recommendations to optimize and grow organic traffic with a content strategy built around the key customer personas we're trying to attract.
CONTENT STRATEGY, DEVELOPMENT & DISTRIBUTION
We developed, produce and distribute the "Pillow Talk by Pour Les Femmes" series to extend the ethos of safety and comfort especially as it extends to women helping other women and thereby expand the reach of the brand. Hosted by Robin Wright, featured guests have included Chelsea Handler, Jamie Lee Curtis, and Amber Valletta.
Media Distribution (Video Streaming/Podcasts)
We partnered with the team at YouTube to launch a monetized YouTube channel in order to take advantage of the potential audience on this popular platform for search/discovery. Pillow Talk is also available on Vimeo and as its own channel on Roku. Pillow Talk is available as a podcast on Apple iTunes, Spotify, iHeart Radio, Google Play, and everywhere you get your podcasts.
Influencer Marketing and UGC
We launched a community-building and collaboration platform to grow and manage our affiliate relationships with influencers. We managed and measured the impact of our celebrity gifting program to some of the biggest celebrities in the entertainment business.
E-COMMERCE LAUNCH & TECHNOLOGY INTEGRATION
E-Commerce Optimization
We launched Pour Les Femmes on Shopify Plus. As a Shopify Partner, we have access to all the latest resources from Shopify and our Shopify development team is the best in the business.
Mobile App Development
The internet is mobile. We launched and hosted the Pour Les Femmes mobile shopping apps on the Apple IOS and Google Play stores to optimize the customer experience and grow revenue.
Marketplaces and Data
We integrated and optimized the Pour Les Femmes product data feeds into online marketplaces including Google Merchant Center, Facebook Commerce Manager, Pinterest, Lyst, TikTok, NBCU Shopping, and JD.com (China) to reach new customers where they prefer to shop.
Customer Support
Launched a customer support technology that allowed the customer service team to increase customer satisfaction and drive customer loyalty.
Globalization
We partnered with Global-E to grow international sales and provide an integrated solution for expedited cross-border deliveries via DHL and collection of all sales taxes and VAT in over 200 countries.
Global Fulfillment
We led the evaluation, selection, tech integration, and launch of a new global fulfillment partner that improved Pour Les Femmes's ability to quickly deliver to customers across the globe, improving our last-mile delivery and customer satisfaction.
B2B E-Commerce Platform
We researched, evaluated and implemented digital e-commerce platforms to improve order management, payments, access to line sheets and catalogs, and enable a virtual showroom.
Payment Systems
We researched, evaluated, and launched payment systems to provide Pour Les Femmes customers with their preferred option to pay at checkout. These included Apple Pay, Klarna, Stripe, PayPal, and more.
Web3.0/Traceability
We partnered with a Web3.0 technology company to create a fully traceable blockchain-enabled product journey for Pour Les Femmes' collection of sustainably made garments. Customers can point and scan a QR code on a hangtag that's unique to each SKU to see information on the craftsperson who stitched it, the origin of the fabric, and more.

First-Party Data, Analytics, Attribution, and Measurement
Customer data and analytics were at the heart of our approach to growth. With a deep background in media measurement product development using first-party data, we constantly evaluated the technology around measurement and attribution platforms to be sure that the budget we spent on our paid ad campaigns is being used effectively and is correctly correlated to the customer journey.
Consumer Insights
We conducted focus-group and online research to translate consumer insights into growth opportunities for the brand. These insights directly informed the brand's creative identity, target audience, and product development. We implemented post-purchase tracking surveys to provide demographic data, complement attribution measurement, improve conversion rates (CRO) and customer experience (CX), and more.
Marketing Attribution
We used best-in-class reporting platforms and relied on first-party data wherever possible to uncover how channels were performing and shed light on the customers' path to purchase across social media, paid media, search, direct mail, and TV/OTT.
PR/Brand Tracking
We monitored the brand's media coverage and influencer marketing campaigns to understand the true impact of those activities and the dollar value of the placements and mentions.
E-Commerce Analytics
We used data from Google Analytics, Shopify Plus, and Klaviyo to track, measure and compare key e-commerce KPIs including total site visitors, total revenue, AOV, CTR, and more.